South Africa's Big Four Banks Snared in Gordhan Political Crisis
For the third time in less than a year, banks are paying for South Africa's political turmoil.
The nation's lenders were the worst-hit companies after prosecutors on Tuesday summoned Finance Minister Pravin Gordhan to appear in court on fraud charges, reviving fears of his removal from office and a downgrade of the country's debt to junk status. That would add higher funding costs to a banking industry already contending with increasing bad loans, a weak currency and an economy expanding at the slowest pace since the 2009 financial crisis.
South Africa's six-member banks index — including the so-called "big four" of Standard Bank Group Ltd., Barclays Africa Group Ltd., FirstRand Ltd and Nedbank Group Ltd. — dropped 3.6 percent on Tuesday, the most since a similar threat to Gordhan's position emerged in August. The decline wiped 32.4 billion rand ($2.24 billion) of value from the index, compared with a 47.7 billion-rand loss on Aug. 24. The index fell 0.6 percent as of 11:56 a.m. in Johannesburg on Wednesday, eradicating a further 5.6 billion rand of value.
"Banks were hardest hit yesterday because of renewed concerns of a sovereign rating downgrade," said Harry Botha, banks analyst at Avior Capital Markets in Cape Town. "While intuitively that will put pressure on wholesale funding costs, the greatest concern for the banks from a profitability perspective is the economic impact this will have."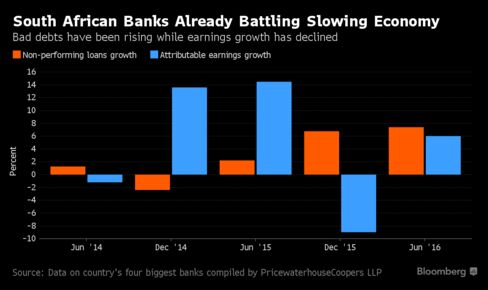 Banks are already grappling with difficult domestic conditions. South Africa's economic growth slowed to 1.3 percent in 2015 and is expected to expand just 0.4 percent this year, according to the central bank. Interest rates have been increased twice this year and inflation hit a seven-year high while unemployment figures continue to be among the highest in the world.
Prosecutors alleged Gordhan illegally authorized a colleague's early retirement and established an illicit investigative unit when he was the head of the national tax agency almost a decade ago. Gordhan said the move is politically motivated and without merit. In August, Gordhan received a letter from the Hawks, a special police unit, requesting that he present himself for questioning.
The banks are capable of weathering the latest storm because they're "very well capitalized, with excess capital, offshore buffers and diverse lines of business," said Adrian Cloete, banks analyst at PSG Wealth in Cape Town. "We don't need to be concerned about the banks. There won't be a big earnings impact, but there will be secondary impact if the rand falls further and interest rates rise."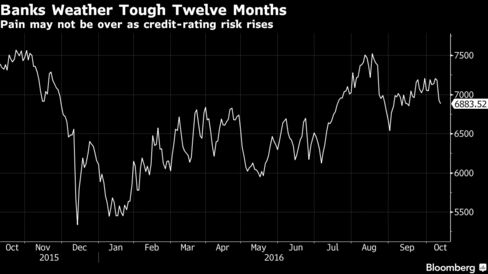 Gordhan has led efforts to help South Africa keep its investment-grade rating and is seen by international investors as a steady hand to guide the economy. The Treasury's pledge to keep spending under control and limit debt was cited as crucial for S&P Global Ratings and Fitch Ratings to avoid a cut to junk.
Source: Bloomberg