Samsung Stock Meltdown Attracts Investors on Survival Bets
The debacle that sent Samsung Electronics Co. to its biggest three-day stock rout since 2012 isn't scaring TT International (HK) Ltd. and Skagen AS from South Korea's biggest company.
"Samsung offers exceptional value; we have added to our position," said Duncan Robertson, a portfolio manager at TT International, whose Asia Pacific Equity Fund beat 90 percent of peers over the past year with a 21 percent annual return. "The battery issue can only be a long-term threat if the company doesn't take the correct steps to restore its brand. We have confidence that they have taken the correct steps so far."
 On Tuesday, the world's biggest phone maker said it is ending production of its problematic Galaxy Note 7 smartphones, taking the drastic step of killing off a device in one of the deepest crises in its history. It had already recalled the Note 7 once last month after early models exploded and the latest move comes after customers reported that replacement phones were also catching fire.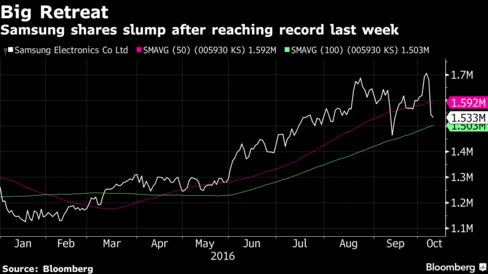 "Samsung will come out of this episode relatively unscathed. Any impact would be temporary," Kar Tzen Chow, a Kuala Lumpur-based fund manager at Affin Hwang Asset Management Bhd., which oversees about $7.6 billion, said by phone. "It will survive this episode and move on." He said he's looking at the current price weakness to buy more shares.
The shares sank 0.7 percent on Wednesday, bringing the three-day slump to 10 percent, the most since May 2012, after reaching a record high last Friday. They plunged 8 percent Tuesday. The declines dragged valuations to near the cheapest level in eight months. The stock climbed 1.4 percent at Thursday's close, after earlier surging as much as 3 percent.
"The recent pullback in the share price offers an attractive entry point, a buying opportunity, for long-term investors," said Knut Gezelius, a fund manager at Norway's Skagen. "We believe the battery issue in Samsung most likely is a short-term issue with limited impact on the intrinsic value of the company."
Not everyone is optimistic. The uncertainty over its brand reputation and reliability amid rising competition would be a big challenge to overcome, according to Samir Mehta, a Singapore-based senior fund manager at JO Hambro Capital Management. The stock isn't cheap enough yet to buy, he said.
Earnings Momentum
Samsung will suffer financially from halting production, as it will lose revenue from a flagship device, but the main long-term impact will be on its brand and reputation, according to a BMI Research report.
The Korean company on Wednesday cut its outlook for third-quarter operating profit and sales. Profit will be 5.2 trillion won ($4.63 billion) instead of 7.8 trillion won in the period, the company said in a regulatory statement. Revenue will be 47 trillion won instead of 49 trillion won.
"It seems to be difficult for the company to overcome this issue immediately. Given the facts that I have, the company is unlikely to post solid earnings for the fourth quarter," Chaiwon Lee, chief investment officer at Korea Value Asset Management Co., said in Seoul."I feel like the company has lost its earnings momentum now." He declined to comment on whether he will buy or sell Samsung shares.
Before this week, Samsung shares were up more than 50 percent from a January low. The stock rallied last week after preliminary results showed operating profit topped analysts' projections and activist investor Paul Elliott Singer advocated breaking up the company and pay shareholders a special dividend.
The stock is "trading close to book value now. This is a very attractive valuation right now," said David Gaud, a senior portfolio manager at Edmond de Rothschild Asset Management in Hong Kong. "We'd expect the share price to be weak in the near future, because they've done very well in the past months. There will be some profit-taking, but we'd seek for opportunities to re-enter the stock or buy more into the stock."
Source: Bloomberg