Pound Rebound Cut Short as Traders Pine for Positive Brexit News
Sterling weakened against most of its 31 major peers, having outperformed 30 of them on Wednesday, after Prime Minister Theresa May agreed to give British lawmakers a say over the plan for taking the U.K. out of the European Union. The optimism faded on Thursday as investors return their focus to concerns over May's perceived hard-line stance on leaving the single market. Thursday's drop leaves the pound down 6.4 percent versus the dollar in October, headed for its worth month since June.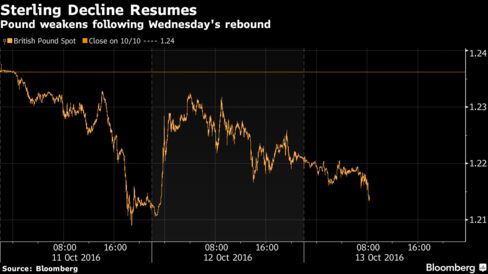 "There's still scope for a bounce in the pound on positive news surprises given that short-positioning is very extreme and that sterling valuations are very cheap," said Sam Lynton-Brown, a foreign-exchange strategist at BNP Paribas in London. "But as the various parties involved in the Brexit process are staking out their negotiating positions, it doesn't look like the negative news flow will moderate anytime soon."
The pound fell 0.5 percent to $1.2146 as of 8:25 a.m. London time, after climbing 0.7 percent Wednesday. It weakened 0.5 percent to 90.61 pence per euro.
Source: Bloomberg