Largest Africa Economies Need More Growth to Cut Joblessness
A surge in agriculture has helped lift Africa's biggest economies out of their slumps, but the recovery may be weak.
Gross domestic product in Nigeria, the continent's largest crude producer, advanced for the first time in six quarters in the three months ended June from a year earlier, growing 0.55 percent, the statistics agency said. In South Africa, GDP expanded 2.5 percent from the previous quarter, ending the second recession in almost a decade.
Both economies had agriculture largely to thank: in South Africa, a bumper corn harvest following the worst drought in more than a century saw the sector surge 34 percent from the prior quarter, while in Nigeria, where farming vies with industries as the second-biggest contributor to GDP, it increased 3 percent from a year earlier despite the period being in the planting season.
"Neither is driven by strong productivity gains," Razia Khan, the head of macroeconomic research at Standard Chartered Bank Plc in London, said in an emailed response to questions. "The only similarity is that in both instances, this growth is relatively unremarkable."
In South Africa, the continent's most-industrialized economy, low demand for its commodity exports and political turmoil have weighed on output. Two ratings companies cut its international debt to junk in April after President Jacob Zuma fired Pravin Gordhan as finance minister, with the changes battering business and consumer confidence. The central bank reduced its key rate for the first time in five years in July, citing concern about the growth outlook.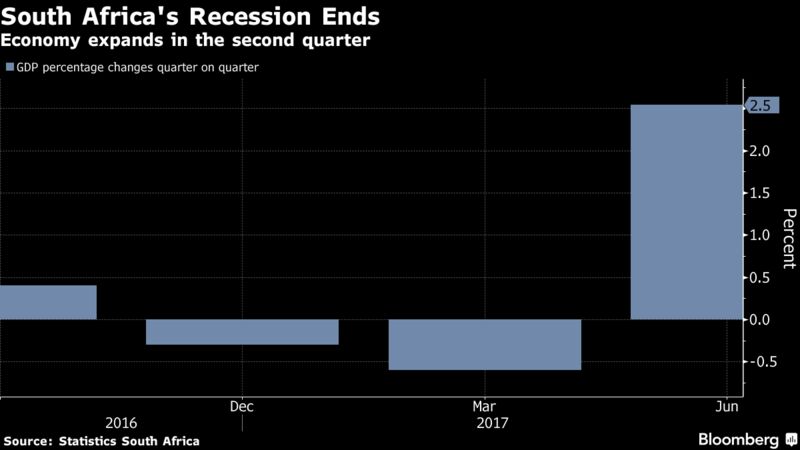 "It is a slight improvement but it doesn't mean that we've recovered from the slow growth environment" in South Africa, Thabi Leoka, an economist at Argon Asset Management, said by phone from Johannesburg. "It's still a very weak number; forecasts for the year still remain weak."
The rand strengthened 0.5 percent to 12.9030 per dollar by 3:31 p.m. in Johannesburg on Tuesday. The naira weakened 0.1 percent against the U.S. currency to 359.24.
In July, South Africa's central bank halved its economic growth prediction for this year to 0.5 percent. The government will probably cut its estimate of 1.3 percent for 2017 in October, when Finance Minister Malusi Gigaba delivers his first medium-term budget policy statement. The jobless rate is at a 14-year high, at 27.7 percent.
In Nigeria, where crude is the largest export, a drop in prices and output of the fuel and a lack of foreign currency weighed on the economy, which contracted for the first time since 1991 last year. The oil industry expanded 1.6 percent in the second quarter from a year earlier.
Nigeria released a four-year program in March that aims to boost growth to 7 percent by 2020 through lifting oil output, opening farmland and increasing investment in power, roads, rail and ports.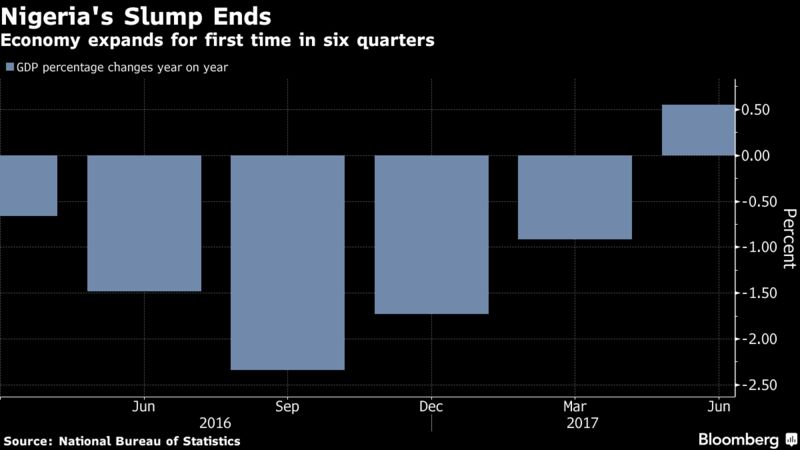 The growth rate "is way below optimal," and insufficient to create more work for the 14.2 percent of Nigerians who want to work but can't find jobs, Financial Derivatives Co. Chief Executive Officer Bismarck Rewane said by phone from Lagos. "It is sustainable, but it means that a lot more work needs to be done and it's too early to start celebrating."
Source: Bloomberg