Italian Bonds Rise As Trading Signals U.K. Will Remain In EU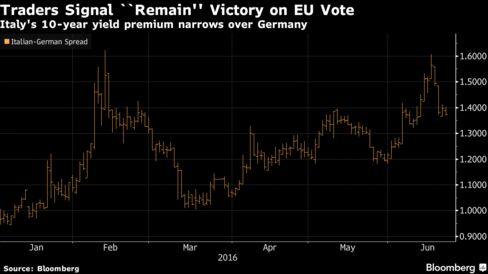 Italian and Spanish government bonds rose as traders followed signals from betting odds that Britain will vote to remain in the European Union in Thursday's referendum.
Italy's 10-year yield premium over Germany touched the lowest level in a week as German bund yields held near a two-week high. While bookmaker figures processed by the Oddschecker website put the chance of Brexit at 25 percent, the polls were more divided on whether the U.K. would vote to stay or leave. European Central Bank President Mario Draghi said officials were ready to act if the vote caused market turmoil and threatened price stability.
It has "been a bit of a roller coaster in the past couple of weeks with a bit of a panic last week on fear of a Brexit and now most again expect the U.K. to remain," said Allan von Mehren, chief analyst at Danske Bank A/S in Copenhagen. "Everyone is awaiting tomorrow's referendum, so there is not much going on and liquidity is likely to be quite thin today and tomorrow."
Italy's 10-year bond yield fell two basis points, or 0.02 percentage point, to 1.42 percent as of 11:31 a.m. London time, the lowest since June 13. The 1.6 percent security due in June 2026 rose 0.225, or 2.25 euros per 1,000-euro ($1,129) face amount, to 101.685.
Benchmark German 10-year bund yields were little changed at 0.05 percent after rising to 0.075 percent Tuesday, the highest since June 7. The yield spread versus similar-maturity Italian debt narrowed to 1.36 percentage points, the lowest since June 13. The yield on Spanish 10-year debt dropped two basis points to 1.48 percent.
In the final bond auction before the U.K. vote, Germany sold 1 billion euros of securities due in August 2046 at a record-low auction yield of 0.65 percent.
SOURCE: Bloomberg