European Stocks Drop With U.S. Futures As Oil Falls; Yen Gains
European equities fell toward a one-month low and U.S. stock index futures declined as crude oil dropped toward $44 a barrel. Shares of raw-materials producers rallied as metals prices climbed and the greenback weakened.
The Stoxx Europe 600 Index fell for the first time in three days, while the MSCI Asia Pacific Index was little changed. Crude retreated in New York ahead of American inventories data, while copper advanced with gold. The Kiwi rose from near its weakest level since March as a central bank report damped speculation interest rates will be cut. The yen strengthened following its biggest two-day drop since January.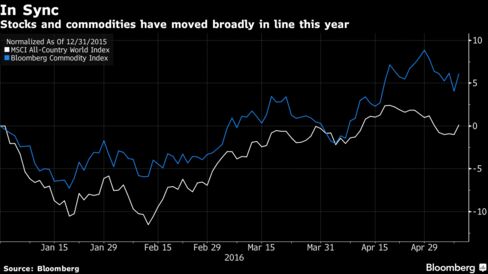 Global equities showed signs of stabilizing in recent days after a selloff last week that erased some $1.3 trillion of value and was spurred by subdued economic data in the U.S. and China. Corporate earnings continue to be a mixed bag, with Toyota Motor Corp. predicting its first profit drop in five years on Wednesday and EON SE reporting better-than-expected net income. The U.K. is due to release industrial output data for March.
Stocks
The Stoxx Europe 600 Index fell 0.4 percent as of 8:40 a.m. London time. Carlsberg A/S, the world's fourth-largest brewer, sank 2 percent after reporting first-quarter sales.
Futures on the S&P 500 Index fell 0.2 percent, after the benchmark rose by the most in two months on Tuesday. The MSCI Asia Pacific Index advanced 0.1 percent, led by gains in raw-materials producers. Australia's S&P/ASX 200 Index climbed to a nine-month high, gaining with benchmarks in Shanghai and Indonesia. The Hang Seng Index sank to a two-month low.
BHP Billiton Ltd., the world's biggest mining company, surged 4 percent in Sydney. Toyota fell for the first time in four days before Japan's largest company forecast annual profit will drop for the first time in five years. A Tokyo-listed exchange-trade fund that tracks Brazilian shares climbed more than 4 percent before the Latin American country's Senate votes Wednesday on whether to impeach President Dilma Rousseff.
Currencies
The yen climbed 0.6 percent to 108.62 per dollar, after sliding more than 2 percent over the last two days. The currency has gained more than 10 percent this year, making it harder for the Bank of Japan to achieve its inflation goal, and Finance Minister Taro Aso reiterated Tuesday that the government can intervene to stabilize the exchange rate if necessary.
The Kiwi strengthened 0.5 percent after the Reserve Bank of New Zealand said it was only at the assessment stage in considering further macro-prudential controls to help curb the nation's booming housing market. The lack of progress in introducing measures targeted at home prices damped speculation interest rates will be cut, according to Sam Tuck, a currency strategist at ANZ Bank New Zealand in Auckland.
The Bloomberg Dollar Spot Index, which tracks the greenback against 10 major peers, fell for a second day. The gauge had its strongest rally in almost a year in the five days through Monday.
Commodities
West Texas Intermediate crude fell 1.3 percent to $44.08 a barrel, after climbing 2.8 percent in the last session. Concern over supply disruptions in Nigeria and Libya, holders of Africa's largest oil reserves, drove Tuesday's gains, though this was countered by expectations that U.S. data on Wednesday will show American stockpiles expanded from the highest level since 1929.
Zinc and lead rose by more than 1 percent in London, while copper gained 0.7 percent. Prices are climbing after the London Metal Exchange's LMEX Index of six industrial metals closed at a one-month low on Tuesday. Demand is set to exceed supply for zinc and some other industrial metals, according to mining and trading company Glencore Plc.
Gold gained 0.5 percent, buoyed by the dollar's retreat. Goldman Sachs Group Inc. this week raised its forecasts for bullion prices as it scaled back expectations of U.S. Federal Reserve rate hikes over the next year, while remaining bearish on the metal's proEspects
Soybeans rose as much as 0.7 percent, building on the last session's 5.6 percent surge. The U.S. Department of Agriculture forecast on Tuesday that world soybean inventories will fall 8.1 percent by September 2017, and Brazil — the top exporter — cut its outlook for the country's current crop after drought conditions hurt production.
Bonds
U.S. Treasuries due in a decade yielded 1.75 percent, near a one-month low. Odds on the Fed raising key rates at its next meeting in June have dropped to 4 percent, from 17 percent a week ago, before weaker-than-projected U.S. payrolls data undermined perceptions of the economy's strength. A report on retail sales is due Friday, along with an update on producer prices.
In Japan, 10-year yields declined one basis point to minus 0.105 percent. A year after the so-called German bund tantrum, which erased more than $750 million in value from the global government debt market, Goldman Sachs Group Inc. is predicting Japan will be a potential source for the next international bond selloff.
"A convincingly large and effective fiscal expansion in Japan accommodated by further BOJ easing could be enough to turn market dynamics around, and have international ramifications," Francesco Garzarelli, co-head of global macro and markets research at Goldman Sachs in London. "Global bonds would sell off in sympathy."
1Malaysia Development Bhd.'s dollar bonds due 2022 dropped to a two-week low as the Malaysian state investment company faces an interest payment on the debt after defaulting on other notes last month. April's non-payment was linked to a dispute with Abu Dhabi's sovereign wealth fund International Petroleum Investment Co., which co-guaranteed the securities.
SOURCE: Bloomberg