Dollar Climbs on Fed Odds; Europe Shares Set to Track Asia Slide
The dollar rose versus all its major peers as bonds dropped after investors boosted expectations for a Federal Reserve interest-rate increase this year. Index futures signaled European and U.S. equities will follow a retreat in Asia.
Futures contracts on the Euro Stoxx 50 Index fell 0.4 percent as of 7:22 a.m. in London. The MSCI Asia Pacific Index dropped by the most this month, led by technology shares after Samsung Electronics Co. told retail partners to stop sales and exchanges of its Galaxy Note 7 smartphone. The greenback climbed at least 0.5 percent against currencies from New Zealand to South Korea and Taiwan as 10-year Treasury yields added five basis points following Monday's market holiday. U.S. crude was near its highest price in 15 months.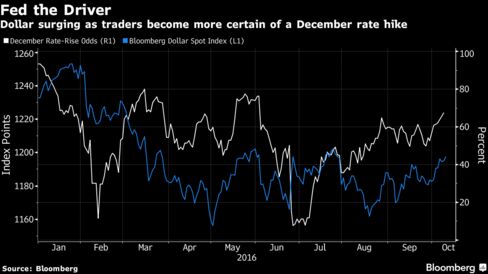 The Bloomberg Dollar Spot Index is climbing for the sixth time in seven trading sessions as expectations build that the Fed will tighten policy in December for the first time since the same period in 2015. Stocks in Asia reversed initial gains as investor nervousness remains amid concern that potential U.S. interest-rate increases and the U.K.'s planned departure from the European Union will weigh down fragile global growth.
U.S. dollar gains are "entirely linked to the fact that the market has been upwardly rerating expectations of a December rate hike," said Sue Trinh, head of Asia foreign-exchange strategy for Royal Bank of Canada in Hong Kong. "Three weeks ago, the implied probability of a December hike discounted by fed funds futures was under 50 percent, today it is close to 70 percent."
Stocks
Contracts on indexes for the U.K., Germany and France all fell at least 0.2 percent. Futures on the S&P 500 Index retreated 0.2 percent after the underlying benchmark climbed 0.5 percent on Monday.
The dollar-denominated MSCI Asia Pacific Index retreated 0.7 percent, with technology shares posting the biggest declines as a group. The Kospi index slipped 1.1 percent in Seoul with Samsung tumbling 7.1 percent.
"Within Asia, Samsung's problems are a major issue that's effecting electronic partsmaker shares," said Mitsushige Akino, an executive officer at Ichiyoshi Investment Management Co. "The decline in Korean stocks is mostly a reflection of that."
In Hong Kong, the Hang Seng Index and the Hang Seng China Enterprises Index each dropped more than 1.4 percent, as real estate companies slumped after a number of Chinese cities imposed restrictions to cool surging property prices. China Resources Land Ltd. fell to a two-month low.
The Topix gained 0.4 percent, rising for the fifth time in six sessions. The Shanghai Composite Index rose 0.4 percent, adding to the 1.5 percent surge it posted Monday when shares resumed trading in China after a week-long break.
Currencies
The yen, which typically moves at odds with Japanese stocks, dropped 0.4 percent to 104.02 per dollar, weakening for the 10th time in 11 sessions.
The Bloomberg Dollar Spot Index, a gauge of the greenback against 10 major peers, rose 0.3 percent. The kiwi tumbled 1 percent while the Aussie dollar and the South Korean won each weakened at least 0.7 percent. The Philippine peso slid 0.3 percent and touched a seven-year low of 48.51 per U.S. dollar.
The offshore yuan also weakened, slipping for an eighth straight day in its longest retreat since 2014. The currency was down 0.1 percent to 6.7208 a dollar in Hong Kong, touching its weakest level since Jan. 7. The onshore-traded yuan declined 0.1 percent and hit 6.7154 per dollar, its lowest since September 2010.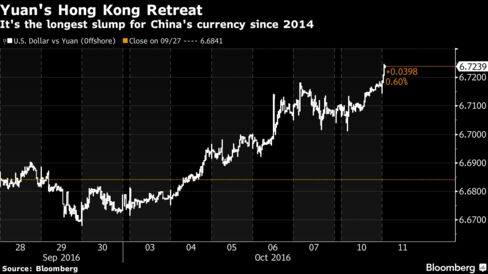 Bonds
Treasury notes due in a decade yielded 1.77 percent after trading resumed following the Columbus Day bond-market holiday. Similar-dated German bunds were little changed.
The decline in Treasuries is being driven by the willingness of Saudi Arabia and Russia to cooperate on an oil output deal, said John Gorman, head of non-yen rates trading for Asia and the Pacific at Nomura Holdings Inc. in Tokyo.
Asian government debt followed suit, with yields on 10-year Australian bonds up six basis points, or 0.06 percentage point, to 2.25 percent. Yields on similar maturity notes in Japan climbed by 1.5 basis points and those in South Korea jumped five basis points.
Commodities
West Texas Intermediate crude slipped 0.3 percent to $51.19 a barrel after jumping 3.1 percent last session to its highest closing price since July 2015. Brent traded at $52.94 per barrel.
Oil has gained almost 15 percent since the Organization of Petroleum Exporting Countries provisionally agreed last month to cut production for the first time in eight years. The group's members meet this week in Istanbul for talks on implementing the deal and Saudi Arabian Energy Minister Khalid Al-Falih said it's not unthinkable prices will rise to $60 a barrel by the end of this year.
Zinc led declines on the London Metal Exchange, dropping 0.6 percent drop to $2,313.50 per metric ton. Tin slid 0.4 percent.
Source: Bloomberg