Brexit Bulletin: May Away as Pound Keeps Falling
Prime Minister Theresa May is in Denmark and the Netherlands today amid international concern and growing domestic opposition to her Brexit rhetoric.
Hopefully she won't spend too much money in either place as the pound has sunk 15 percent against the euro and the krone since the June 23 referendum. The currency fell for a third day on Monday after last week suffering its worst performance since June 24.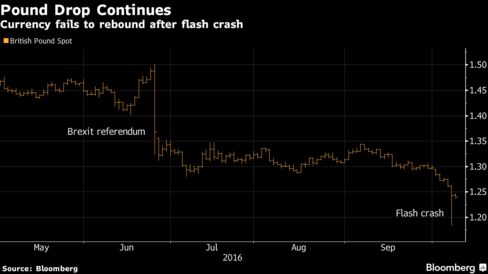 The aim of May's trips to two traditional British allies is to build understanding for her position ahead of this month's EU summit in Brussels, her first since becoming premier.
The prospect that May is focusing more on immigration curbs than ensuring membership of the single market dominated weekend talks at the International Monetary Fund meeting in Washington.
According to Nouriel Roubini, professor of economics at the New York University Stern School of Business:
"The U.K. is really shooting themselves in the foot and it is going to get ugly. The risk is that the U.K. will stagnate at 1 percent growth for the next five years."
European Central Bank President Mario Draghi warned of economic consequences, while Irish central bank chief Philip Lane said Brexit carries "the potential to be a source of volatility and will require continuous monitoring and risk assessment."
EU Commission Vice President Valdis Dombrovskis said in an interview that policy makers aren't "interpreting" the signals from the U.K., but waiting for an official position from May. Meanwhile, U.K. business leaders warned May against hastiness, saying firms have become more cautious and may be less inclined to hire or invest.
Morgan Stanley economists today raised the likelihood of a "hard" Brexit, in which the U.K. loses membership of the single market, to 70 percent from 55 percent.
Pound Plummet Threatens Economy
Is the pound's slump to a 31-year low against the dollar a boost or a burden for the U.K. economy?
Last week's flash crash is highlighting that question after sterling's initial post-referendum slide threw a lifeline to the economy by increasing the likelihood of tourism and exports. Ireland's Lane called it a "stabilizing mechanism."
The worry now, as Bloomberg's Lukanyo Mnyanda reports, is that the latest lurch lower is threatening to fan inflation as well as causing companies such as Sports Direct to downgrade profit forecasts.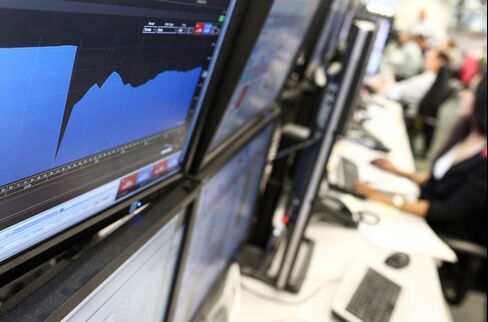 The British Retail Consortium today asked the government toprotect consumers from higher prices related to the weaker pound.
Import prices were already surging the most since 2011, threatening to complicate the Bank of England's ability to keep monetary policy easy.
"Simply because of the pound devaluation, you're getting inflation coming back in fast," said Davide Serra, founding partner and CEO of Algebris Investments.
Banks Bemoan Brexit
Banking executives meeting in Washington didn't find much to look forward to on the Brexit front.
Standard Chartered CEO Bill Winters said it was "horrific" and would prove painful, while JPMorgan boss Jamie Dimon said it increased the likelihood of the EU breaking up.
Morgan Stanley CEO James Gorman said New York would prove a winner as business headed there. Still, Juerg Zeltner, head of UBS wealth-management unit, told Swiss newspaper SonntagsZeitungthat London still remains attractive as a financial center.
Goldman Sachs said it had taken no decisions on London staffing after the Sunday Times reported it was planning to shift 2,000 jobs elsewhere in Europe if banks lost easy access to the single market.
Weekend Wrap
The Observer reported that former Labour Party Leader Ed Miliband has discussed forming an alliance with pro-EU Conservatives aimed at demanding a parliamentary vote on the terms of Brexit. Keir Starmer, the Labour Party spokesman for Brexit, and former Conservative Education Secretary Nicky Morgan used weekend interviews to demand such a vote.
Meanwhile, the government said a controversial proposal aimed at helping to curb immigration by forcing companies to reveal how many foreign workers they employ will not include making the data public. That followed criticism that it could lead to firms being "named and shamed." A government minister speaking on condition of anonymity had condemned the proposal and business leaders wrote to the Telegraph to say it would hurt the economy.
The Telegraph also reported that Chancellor of the Exchequer Philip Hammond is being accused by colleagues of talking down the economy.
The Guardian says the government is trying to avoid putting a border between Northern Ireland and the Republic of Ireland with a plan instead to bolster immigration controls at Irish ports and airports.
On the Markets
Irish Prime Minister Enda Kenny last week pledged to "Brexit-proof" the budget in a bid to cement the recovery and lock in record-low borrowing costs. Ireland returns to the bond market this week.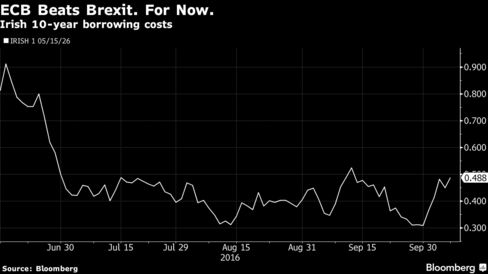 M&G Investments said it planned to open a new division in Luxembourg following the Brexit vote.
And Finally…
A hiring spree of special advisers is underway in government. Brexit Secretary David Davis employed Raoul Ruparel of think tank Open Europe to help him prepare for the upcoming Brexit negotiations. He has also named former Treasury official James Chapman as his spokesman. Meanwhile, Hammond appointed Karen Ward of HSBC as his economic adviser.
Source: Bloomberg